Autumn Photographs
"Turning Over an Old Leaf"
Original Article by Nick Blackmore
Photographs by Anne Day
"Article first featured in Olympus User Magazine"

"Taking autumn photographs - the compelling seasonal activity that puts our abilities to the test."


---
GIVEN THAT THE effect of the four seasons is felt throughout all of the vast temperate and polar regions on the planet, it's surprising to consider that no other place is as readily associated with a season as New England is with the autumn. Some might say that this awesome autumnal experience must therefore be overrated, but then such people have clearly never visited the region.
As a travel destination, New England stands alone – if you holiday there, the photos you upload on your return will have a different character to the records of your previous vacations. As with many other destinations, the area offers timeless architecture (in the form of woodframe houses) and abundant natural beauty. However, at the right time, these familiar images are suffused with something different.
Taking autumn photographs challenges your technical abilities and encourages you to be more creative with your perspectives.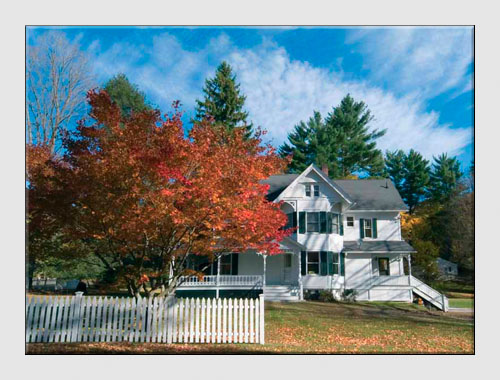 While there is a plethora of reasons why photography is an enjoyable pastime, for many the reason is that an image can catch a palpably unique moment. New England in the autumn is a succession of such moments. Whether you capture the leaves as they fall or snap them on the ground, you're observing the transience of life, in brilliant colour. As the trees curtail chlorophyll production in response to the reduced sunlight, various accessory pigments replace their usual green, and this lends the landscape its definitive autumnal palette of yellow, orange and red.
Much of the area's economy is now built upon seasonal travellers (referred to, in the rather quaint touristic nomenclature, as 'leaf peepers') who inundate the area to admire the natural beauty of the fall foliage. The six states that make up this far northeastern corner of the United States are not short of destinations to fill your schedule.
Boston, Massachusetts is New England's largest city and its de facto capital. It's worth devoting an entire trip to absorbing its venerable character and vibrant intellectual culture. The state is also home to Harvard University and its library, the world's largest. The many port towns and cities of New England, like Portland in Maine, are worth visiting for fresh perspectives on the Atlantic. Untouched rural areas still exist in northern New Hampshire and northern Maine.
Be warned though: the climate remains unpredictable. Famously, Mark Twain once said: "If you don't like the weather in New England, just wait a few minutes." If you're new to leaf peeping, you may want to sign up with one of the many available foliage tours, as insurance that you'll get the most from your time there.
And lastly, if your departure inspires too much jealousy toward those who live among such natural beauty all year round, be thankful that you're a tourist – those poor New Englanders have to rake all those leaves up at some point!
---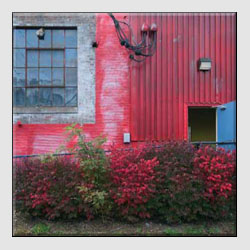 Take a leaf from our book
Spend some time scouting out a few unconventional locations, like this abandoned factory in a Connecticut mill town, and you'll create a set of images with character and a narrative.
Autumn Photographs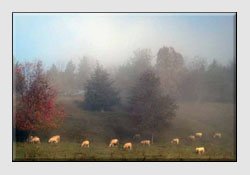 Including livestock gives your photos extra life. Capturing the morning fog can make your image even more atmospheric, but you'll have to be an early riser if you want to capture a vista as good as this one.
Autumn Photographs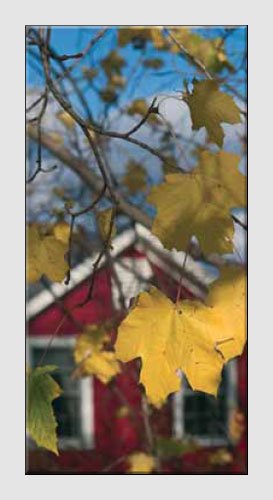 Bringing leaves into crisp focus against the New England landscape can be a sensitive process. Modern digital photography allows for prodigious depth of field; to compensate, you'll need a fairly wide aperture, a wide-angle lens and a high shutter speed. This should help to soften the background.
Autumn Photographs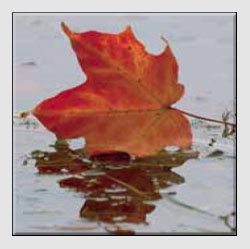 The veins and delicate epidermis of leaves can provide scintillating visual detail.
Autumn Photographs
The woodframe houses of the region, like the one below in Connecticut, provide a colourful contrast to their surroundings. Be sure to respect people's property though – this was taken from further away than the zoom suggests.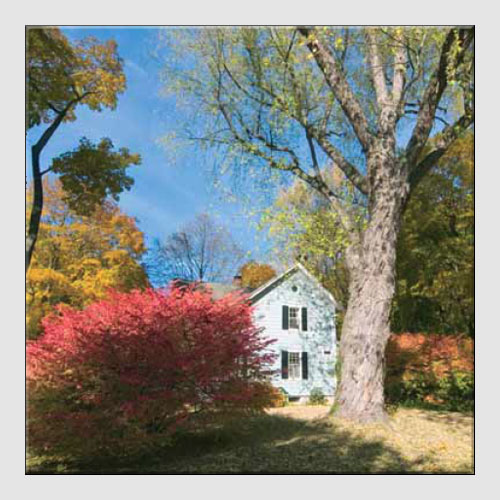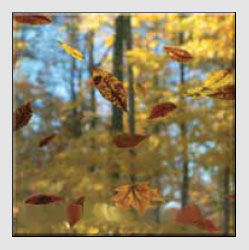 Leaves stuck to your window by condensation are an annoyance you can turn to your advantage. Here, they appear to be floating in the air, or on water.
---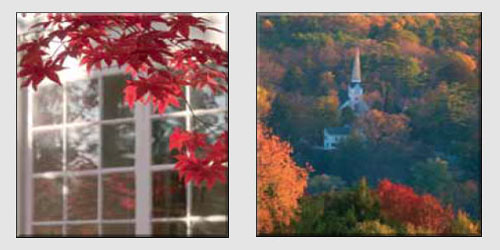 ---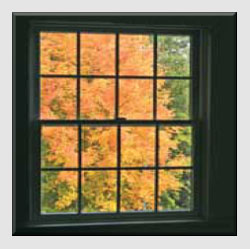 Windows can frame a great picture, literally. Here the exposure value has been set for the outside rather than the darker interior, and the latticework isolates individual squares of vibrant textured colour.
Autumn Photographs
New England lakes can provide an awesome compliment to the autumn skies. For shots like the one below, select 'P' for program shooting and your Olympus camera automatically sets the correct aperture value and shutter speed for the brightness of the subject.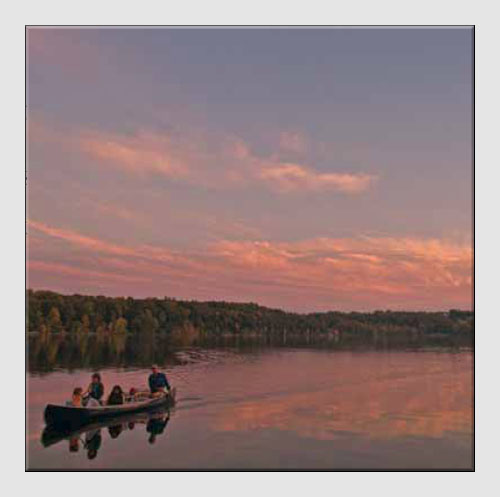 New England's roadsides are littered with farms and part-time food vendors, selling everything from pumpkins to cider, which can add a human touch to your foliage photography.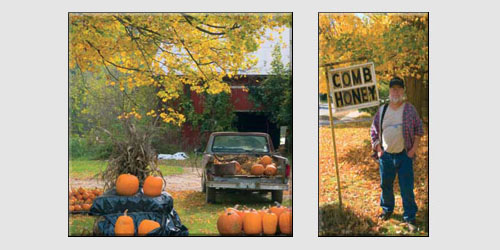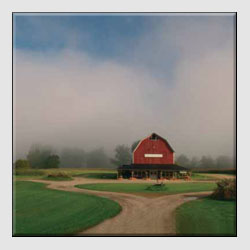 Searching for the best angle to shoot a building and its surroundings can lead to interesting photographic arrangements.
Autumn Photographs
---
Sunrise and sunset
Having the patience to shoot a location throughout the day can pay dividends.
You'll need a little luck to capture a rainbow. This shot was taken in the morning, with the sun rising behind the camera, but with a storm breaking in front of it – a combination that emphasised the dark sky behind the barn and the bright red of the trees (14-54mm lens at 29mm, 1/320 sec, f7).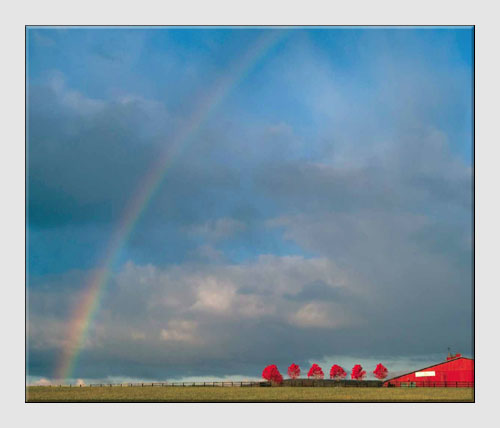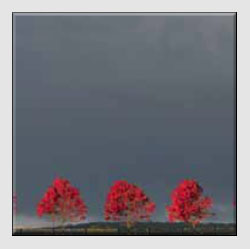 A switch in lens and focal length (50-200mm lens at 107mm, 1/320 sec, f6.3) focused on the striking contrast between the trees and the sky.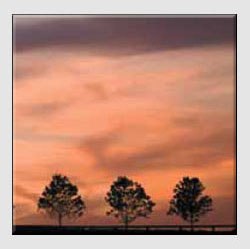 The same trees treated after sunset produce a different response. Shooting at 1/320 f4 captures the sky while it is still stained with orange.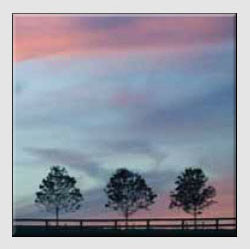 Waiting for less than 10 minutes and shooting with the same lens and f-stop value captures the sky in a steely, fading blue.
---
Old England (and Scotland) in the fall
New England's name is a reminder of its colonial heritage back in the British Isles. But what do these shores have to offer as an alternative to the region?
Westonbirt
The National Arboretum ('tree garden') is the product of an ambitious planting scheme that began back in 1829.
Located near Tetbury, Gloucestershire, the arboretum is a photographer's delight at any time of year, but in the autumn its collection of maples display a matchless array of seasonal colours. The fact that the arboretum was styled on an aesthetic rather than scientific blueprint makes it all the more appealing.
Thetford Forest
On the border of Norfolk and Suffolk lies this patchwork of pines, heathland and broadleaves: ideal fodder for any foliage photographer. A range of trails allows you to pedal around in search of the best locations.
Cairngorms National Park
The largest national park in Britain includes wild moorlands and mountain peaks. There are ranger-led walks through the pine woods all year, and numerous outdoor events to get involved in.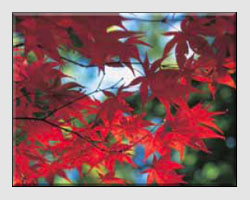 © Olympus UK
---
Click here for more information about the free Olympus Magazine.
Return from Autumn Photographs to the Photography Tutor page.