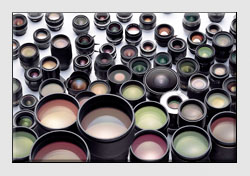 Question from Elaine about Choosing a Camera Lens
-

I have just purchased a Nikon D40x SLR. I am a novice hoping to improve.
What additional camera lens would you suggest? I am non-specific in my subject matter at the moment! Just willing to learn.
Great site by the way.
Regards,
Elaine
---
Answer -
Hello Elaine,
Thank you for your kind remark about Better-Photographs.com
The Nikon D40x is a good choice of camera and I am assuming that you purchased it with the 18-55 mm lens.
As you are not specific about your subject matter at the moment then I suggest you wait a while before purchasing your next lens. Take lots of pictures with your current lens and in time, you will probably find that you wish you had a lens that would either -
take in a wider angle, more of the subject you wish to photograph (e.g. vast landscapes), in which case you'll want a wide angle lens.
or

Choosing a Camera Lens

When you are more sure about your "preferred" type of subject, it's then the time to consider your next lens. You will have a choice of either a Nikon or one of the many Nikon compatible alternative - Sigma, Tamron, etc... If you go for one of the alternative brands, all of which are of very good quality these days, you will probably find that you can purchase two lenses (a wide angle and a telephoto) for not much more than one Nikon lens.

Unless you have a good reason to purchase a fixed length lens then I would recommend a zoom lens in either case. They are a little more expensive than fixed length lenses but will give you greater flexibility in framing your shot.

When you do decide what you need, buy a lens with the widest aperture (lowest f number - e.g. f2.8) you can afford - this is especially important for telephoto lenses. The wider the aperture the faster the shutter speeds you can use and the greater control possible over depth of field. There's more about this in the Focus article.

Hope this helps you. Let me know how you get on.

All the best,

John