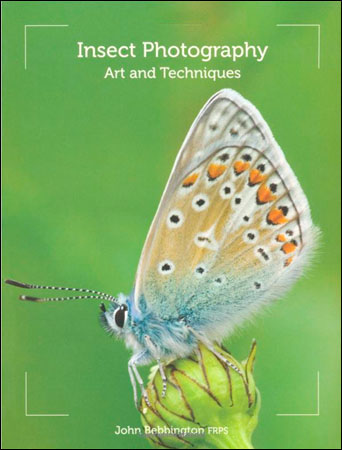 It is a comfortable size in the hand, measuring just over 9½" by just over 7¼" (or 246mm by 188mm) and is published in soft covers. The book is very sensibly divided up with an Introduction on "Your reasons for Photographing Insects" and "What are you Trying to Show?" Then, of course, describing different types of equipment, sensibly not mentioning specific models and/or makes. (Given the rate at which manufacturers bring out new models by the time any book is printed there will be newer models on the market).
It then moves on to "Knowing the Subject" and "Fieldcraft". It is essential to add here that the text is profusely illustrated with beautifully reproduced and appropriately chosen photographs and this continues throughout the whole book.
John must have been asked many times, as have I, "
but how do you know where to go or when?
" Well he has gone a considerable way to answer that very question. Then come sections in which "Composition", "Lighting" and "Capturing the Moment" are discussed followed by "Advanced Techniques" and here you can learn about "Flight Photography", photographing insects in water and going beyond life size, including "Photomicrography", and "Image Stacking".
John then moves you on to "Processing the Images", and by showing illustrations of various editing windows, takes the reader through many of the basic processing techniques.

I feel it was also very sensible to use "Elements 9" as the choice for these illustrations". (Advanced digital photographers could choose to bypass this section of course).


Very sensibly John then discusses the importance of cataloguing your images and of course backing them up. Finally he considers that you may wish to expand your horizons and talks about "Different Habitats", "Pollination", "Parasites" and "Life Cycles"; and then concludes by challenging you to rise up and expand your photography onwards and upwards.
Should you wish to sell your images and/or work towards a Qualification there is advice too about that. I can thoroughly recommend Insect Photography to everyone who wishes to start a new area of Nature Photography and although I have met very few people indeed in Nature Photography who feel they "know it all" I can honestly say that even they will certainly learn something from it.