Komodo National Park
"Home of the Dragon"
Article and Images by Kathy Mendes


EXPLORING KOMODO ON BOARD THE S/Y INDO SIREN



In May 2011 Randy and I traveled on a wonderful adventure to Indonesia, to the exotic island of Bali and to the wilderness of the Komodo National Marine Park. After our last trip Randy had mentioned that he wanted to go on a live-aboard dive boat on the next trip and it didn't take me five minutes to decide upon this beautiful national park as our destination.

As a diver the best way (only way) to go there is on a live-aboard dive boat. There are several that go there and you can travel in whatever style you are used to; from pure luxury on a private or almost private yacht to what we divers call a cattle boat where you are packed in with a bunch of other divers. But which boat?


I wanted to use a sponsor of the Northern California Underwater Photographic Society, of which we are members.

There were four sponsors with boats cruising Komodo and I finally decided upon the S/Y Indo Siren owned by Worldwide Dive & Sail (WWD&S).

All of the boats considered were really nice but I had wanted to go on a WWD&S boat since I met Frank and Mark a few years ago. The Indo Siren is a beautiful boat, and brand new with every consideration to diving and underwater photography having been taken into consideration, plus the company has a great reputation for safety and making sure their passengers have fun! I sent off a quick email to Jenny at Reef & Rainforest Dive & Adventure Travel and we were booked!



WHY WE WENT TO KOMODO



Komodo National Park, including the islands Komodo, Padar, Rinca and Gili Mota, is a World Heritage Site designated in 1991. It is the last remaining habitat of the Komodo dragon, the world's largest lizard and member of the monitor family, found only in the park and a few areas outside the park in Flores.

Marine areas compromise 67% of Komodo National Park and it is in one of the world's richest marine environments. It is part of the "Coral Triangle" and both fringing and patch coral reefs are present, with some of the most well developed to be found on the coast of Komodo and Rinca islands.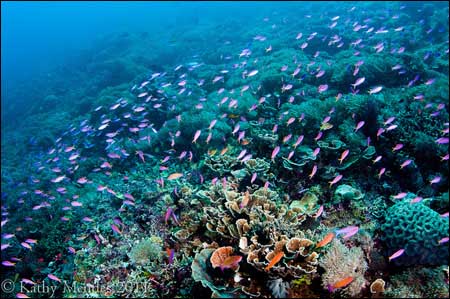 The coral reefs in Komodo National Park, and throughout the world, are threatened by global warming, unsound fishing practices, and other causes. With the diversity of species and many rare marine creatures found in the park it has become a popular SCUBA diving destination, especially among underwater photographers like Randy and I who go there to find and photograph these unusual creatures.



WHERE IS KOMODO (AND BALI) AND HOW DO YOU GET THERE?



Komodo National Park is in Indonesia. To get there we flew from San Francisco to Singapore, with a short 1-2 hour stop in Seoul, then from Singapore we flew to Indonesia to the island of Bali. We spent a couple of nights in Bali at the Bali Holiday Inn to acclimatize and then we flew from Bali to Bima on the island of Sumbawa.

That's a lot of flying! Our favorite airline when going to Indonesia is Singapore Air. We either book on Singapore Air or United where we have miles. For this trip I had just enough miles for one person but not for two. So we booked my air through United for a flight on Singapore Air (both in the Star Alliance), and then booked Randy's flights directly with Singapore Air.



KOMODO AT LAST! BOARDING THE SIREN



After our two days in Kuta, Bali we boarded the airplane to Bima and found that neither of Randy's carry-on bags or mine would fit in the overhead. My camera backpack did fit in the overhead and he squeezed his camera backpack under the seat in front of him somehow and we let the stewardess take our other two carry-on bags forward to the cargo area after I removed my iPad and laptop. Luckily we were sitting in row 2 so when we landed in Bima I was able to get forward easily and recollect our bags before they were unloaded by the baggage handlers. And since the airline baggage rules only allow one carry-on we didn't complain.

At the Bima airport we were met at the airport by Frank, one of the owners of Worldwide Dive & Sail (not to mention a really nice and VERY funny guy). We were all loaded into vans and taken to the harbor where we then had a short ride in a dingy to the Indo Siren which was anchored out in the bay. It is a beautiful boat! This is only the third sailing of the Indo Siren. She is all fresh polished wood and white paint with blue sails and canvas trim.

The cabins are large and have beautiful hard wood floors and walls, and have individually controlled air-conditioning. There are plenty of built in cupboards and closets to put stuff in, and we were soon unpacked and settled in. The bathroom was an all in one but with the shower separate from the toilet and sink so there is no worry of your dry things getting wet (no need to put your toilet paper in the other room when showering).

Each room has a computer station which is on the boat network making it easy to share images and videos with everyone on the big screen in the salon. I really liked the individual reading lights for each side of the bed with individual controls. It is so nice to have a good bright reading light.

The boat has three decks; the lower deck with the staterooms, middle deck with galley, salon and dive deck, and top sun deck (where there is no shade). The salon was very comfortable with couches and a large screen TV where we shared images from our days diving and adventures on the islands. The bar was in the salon as well, where you can order any drink you want whenever you want, but no diving afterwards!

The dining area is spacious and was the central gathering area (besides the dive deck of course) during the trip. The dining area also served as a dance floor in the evening! The top sun deck had comfortable chaise lounges and was a great place to soak up some sun, read a book, take a nap or watch for dolphins!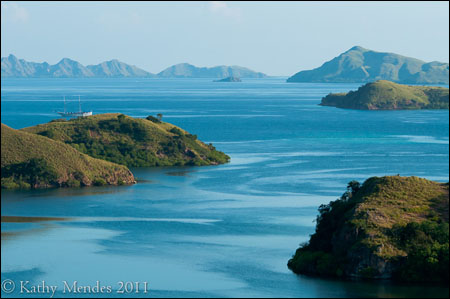 There are three areas for camera preparation with lots of outlets for charging batteries and lights in both 220 and 110v. Each guest gets three storage areas on deck. A large wet storage on the dive deck, and in the salon a large dry storage drawer under the charging table and a small cubby for personal items like sunglasses, books, sunscreen etc…that are easily lost. There was even a non-skid camera area on top of each wet cubby on the dive deck to leave your camera in between dives.

Everything has been thought of! But if you did have a suggestion for improvement they were quick to respond. I suggested how nice it would be to have a fan over the charging station as it got very hot there and voila! The next day there was a fan. The crew handled our cameras carefully and we trusted them completely with them. If you had special instructions you only had to tell them once and they would remember through the entire trip!

And speaking of the crew, they were great! They were efficient and friendly. Every need was taken care of as quickly as they could. The dive guides were great; finding lots of subjects for our cameras and taking care of us in and out of the water. Tristan even carried my camera down to the reef for me after I started having carpal tunnel problems hauling it around! Dingy drivers got divers to the dive sites and then carefully watched for us to ascend after the dive and helped us to get back in the dingy. Our rooms were cleaned quickly and efficiently, and kitchen staff were great in providing delicious hot meals (more below).

On our last day the crew put up the sails and we jumped into the dingy for a photo of the beautiful boat with full sails.

The S/Y Indo Siren is a great boat and I highly recommend if you are going to Komodo diving to put WWD&S at the top of your list of potential live-aboards. Heck, who needs a list just use them! I have not been reimbursed in any way for this trip report or recommendation.

FOOD ON THE SIREN

komodo



I have to mention the food. The chef, Iwan, was great! As Frank mentioned several times Iwan has trained all over the world in different cuisines. Iwan, when not working in the kitchen was often out on the dive deck helping divers in and out of their gear, and on and off of the dingies. He even helped with raising and lowering the sails!

One other fun thing that Iwan did was to announce dinner. First Yadi (dining room attendant) would serve the soup and when we finished with that the other dinner items were usually out on the end of the U-shaped table. Then either Iwan or one of the other kitchen staff would say "good evening everybody". And we would all reply "good evening Iwan" in unison. Then each food dish was held up and Iwan or one of his assistants would explain what it was, where it originated from and whether it was spicy or not. Ewan would say "not spicy for me…for you who knows" and he would say that the mixed vegetables were "green beans, carrots and blah, blah, blah". It was so funny! All the meals were delicious, and desserts also.



DIVING IN KOMODO!



The diving was great! We saw and photographed lots of small and large creatures on reefs with beautiful hard and soft corals. I was very impressed with the healthy reefs and sometimes felt like I was diving in the epitome of the coral sea. One of my favorite things was to watch the small colorful fish that live in coral. Huge schools of them would hang above the coral then swoop down then up then down again in a graceful dance with perfect choreography. How it made me wish I had video capabilities in my camera!


There were great macro sites also with beautiful crinoids of every color, blue-ring octopi, clown fish, shrimp and so much more. I got a photo of a Hawkfish on the most beautiful purple soft coral. Normally skittish this one posed like a pro. At Sangeang Island there is a live volcano and at one of the dive sites gases bubble out of the sand; and water colored with minerals stains the reef yellow and orange.

On deeper dives where the current was strong there would be large schools of fuseliers, trevally jacks, single sharks and huge wrasse swimming in and out of the blue water.



There were great macro sites also with beautiful crinoids of every color, blue-ring octopi, clown fish, shrimp and so much more. I got a photo of a Hawkfish on the most beautiful purple soft coral. Normally skittish this one posed like a pro. At Sangeang Island there is a live volcano and at one of the dive sites gases bubble out of the sand; and water colored with minerals stains the reef yellow and orange. On deeper dives where the current was strong there would be large schools of fuseliers, trevally jacks, single sharks and huge wrasse swimming in and out of the blue water.

At two of the dive sites, Manta Alley and Shotgun, there were manta rays. Huge graceful, beautiful mantas sometimes as many as eight at a time coming so close I almost felt like I should duck! My first time diving with mantas and I was in such awe that I often forgot I had a camera in my hand and just watched them swimming past me. Komodo is truly diver paradise!



A few dive reports of individual sites and experiences:





Castle Rock and Crystal Rock



Day 3 of diving started with an amazing dive site with fish everywhere! Jacks, fuseliers, sharks, huge wrasse. A great dive! This was at Castle Rock off the island of Gilli Lawah Laut. On our second time at this site on May 20, there wasn't as much current and there were fewer fish and although I saw a couple of white tip sharks, they were too far out in the blue to get a picture. There were two HUGE sweet lips. And at the top there was a small group of big eye jacks and trevally jacks.

The second dive not so great. This was at Crystal Rock also off Gilli Lawah Laut near Castle Rock. We were in an area known as current city,and the dive site had one big rock (or a small island) sticking out of the water with currents flowing around it. I decided before we even got in the dingy that I wasn't taking the camera.

Right away things went wrong. The current wouldn't allow us to follow the original plan so we went to the left of the rock instead of the right. And then we hit an outward and downward current and
I started to go down… fast. Randy went rocketing past me with his camera but I wasn't going to go after him. I was around 80 feet and motioned to Rung (wonderful dive guide from Thailand), that I wanted to go up. So I kicked like hell and put a little air in my BC, then a little more, then a little more. By this time she was about 10 feet away still on the reef and she swam out, grabbed my hand and the two of us kicked like crazy to get to the reef. I was so glad I had left my camera on the boat!

Still buffeted by current Rung led us up the reef until we finally got into the shallows (20 feet plus) where we could rest. She knew how to work her way in and out of the coral heads so we didn't have to fight the current as much. We ended up spending our entire dive there. It was beautiful with staghorn corals and millions of tiny multicolored fish swimming around and up and down along the reef. Then I wished I had my camera.

The next time we dove Crystal Rock I took my camera (Tristan actually swam it down to the reef for me) and was glad I did. I saw white tip sharks, and fuseliers chasing through bait fish balls. Others saw grey reef sharks! Randy saw and photographed a juvenile white tip shark. And a few lucky divers were buzzed by a dolphin! Randy went up and I stayed down with Rung enjoying the reef until time to ascend.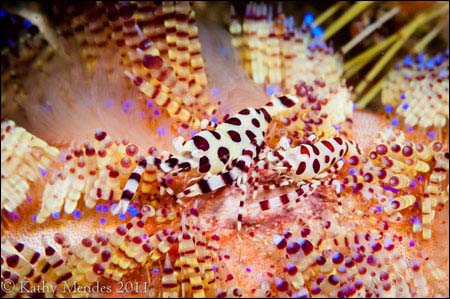 Cannibal Rock and Dynamite Fishing



At one of the more famous dives in Komodo, Cannibal Rock, we descended to find dead fish all over the reef. Evidently the reef had been dynamite fished. Whatever did not float and was not picked up by the fishermen was left to rot on the bottom. It was such a sad thing to see especially since Komodo is a marine park and fishing is not allowed except at one small village that lives on one of the islands. Frank was really upset and reported the incident to the marine park authorities. He asked for anyone that took dead fish images to share with him to show them. We also noticed a very large net tangled over a section of the reef.



Manta Alley

komodo



Today we went to Manta Alley! And we saw…Mantas!!! Also known as "big bird". This was my first underwater manta experience. At first they were off in the distance and the vis was not great. But soon they were coming right over our heads and you could see they were HUGE! They were beautiful. Big black birds flying around in the water. Sometimes I forgot I had a camera in my hand and just watched them gliding past. Just beautiful! I didn't get any good images but I enjoyed the experience, and Randy took some good ones so I will be able to live vicariously through his images.



Hot Rocks



Our second to last dive was at a site below an active volcano (Sangean Island, Gunung Merapi volcano), which last erupted in 1996. In addition to pygmy seahorses at 90+ feet, in the shallows at 20-30 feet there are numerous vents with warm water and gases venting through the sand. The bubbles would come up in small streams and in one area I called the "bubble field" there were patches of multiple vents in a circle which made for really nice bubble streams.

I thought that photographing bubbles would be easy, I do it all the time by accident when someone swims into my pictures. But it was really difficult! The bubble streams could be intermittent and the first ones I found were single bubble vents which did not produce a lot of bubbles. After I found the bubble field though I started to get the hang of it and my last shot of Rung swimming behind the bubbles with blue water behind her is one of my favorites!



Diving in Currrent



One thing I've found is that I don't like diving in current. I don't mind if it is gentle and I go with the current. But I don't like when I'm being blasted along the reef uncontrollably. And I don't like the downward currents. And forget all about going against the current! Let the mantas go against the current, I'm not. That being said one day we did a dive called "Shot Gun". They don't call it "Shot Gun" for nothing! And on top of the current, the dive is a sunset dive. The main premise of the dive is going through a slot in the rocks really fast. There is an area the guides call the "fish bowl" where you sink down out of the current and there are supposed to be lots of fish and possibly big birds. Even though everyone else went and they all urged me to dive I decided not to and stayed on the boat. Everyone had a great time on the dive. Maybe next time I'll do it, without camera.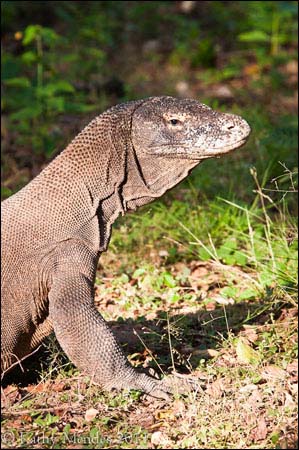 KOMODO DRAGONS; SUNRISE, SUNSET AND TOPOGRAPHY



While on the Siren we did a land excursion to Rinca Island. We went to the interpretation center, where there were lots of Komodo Dragons hanging around, and then hiked up the hill to see the beautiful view. On the way down we found a water buffalo sitting in a creek in a "wallow". It didn't seem to mind us taking pictures, continuing to chew its cud and wallow around in the mud. There were also plenty of monkeys hanging around in the trees around the buildings.

But the most fun we had with the dragons was what was called "playing with the dragons". At the southern end of Rinca Island we got in the rubber dingy (Zodiac), with a dive guide and a boat driver and then drove to the island and put some leftover chicken parts on the beach and waited to see what would happen. Very quickly two dragons showed up. Komodo Dragons have a very strong sense of smell and will head for whatever they think is food.

We were all in the rocking dingy trying to get pictures and then the dragon, smelling the chicken parts in the dingy, started swimming out to the dingy! Then it got real exciting with all of us laughing and screaming and taking pictures with Rung yelling at Mimpi "go, go, go, GO NOW!", and Mimpi almost killing the engine and it starting back up and taking off as the dragon got closer and closer! It was very exciting, great fun plus a great photo opportunity. We also tried to photograph the sea eagles as they swooped overhead looking for leftover chicken parts.

This is a beautiful area. The sunrises and sunsets are great. Huge cumulous clouds turn pink and orange. There was a full moon while we were on the boat and the moonrises and moonsets were spectacular! The ocean varies in color from deep blue to a brilliant aqua in the shallows. I did do some snorkeling (when I forgot my dive belt and again when I attempted some over-under shots) and really enjoyed cruising over the reef with brightly colored fish and healthy coral.

The hills are a bit like the California coastline, around the central coast. There was lots of grass with shrubs and steep hills coming down into the ocean with lots of rock. I wanted to take a rock home with me from the dragon walk at the interpretation center but my luggage was overweight already. There was a full moon while we were on the boat and I took lots of both moon rise and moon set images. We've seen wild pigs, water buffalo, komodo dragons, sea eagles, deer and monkeys. There are also wild goats I'm told, but we didn't see any.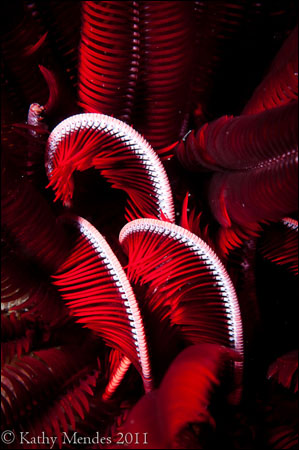 In summary, this is a great trip on a great boat with a great company.

I had a great time and can't wait to go back again!




---
---
Why visit this place?
"As a SCUBA diver I recommend going to Komodo National Park because the marine diversity is amazing, but there is one creature on land that is VERY interesting to see and photograph, the Komodo Dragon! You may also see and photograph water buffalo, sea eagles, wild pigs and goats, and some spectacular sunrises and sunsets."

When is the best time of year to visit?
Although it is good all year round, April through November may be best as it can be rough and windy during the rainy season.

Weather Forecast
---
---