Lesvos
"A Beautiful Island which Draws You Back"
Article and Images by Carol Wiles


Lesvos is the third largest Greek Island and the one nearest to Turkey, and has three distinctly different areas: the olive groves, the pine forests and the mountainous arid area.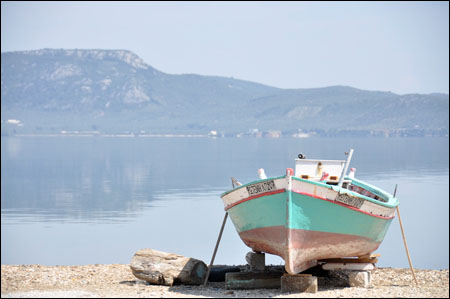 There are three main resorts: Skalla Kalloni, Molyvos (or Mithymna), and Eftalou. Travelling in early May, we stayed a week in Skalla Kalloni and a week in Molyvos, and hired a car for the fortnight which is the easiest way to get around. This was our third visit and the trip was arranged this time by 'A Reason to Travel'.


| | |
| --- | --- |
| | Staying first at the Aegeon Apartments, we encountered the 'twitchers' or bird watching fanatics around Skalla Kalloni, which is renowned for the inland sea that dominates it. |

For the best bird watching you need to visit in April or May because the migrating birds 'stop-over' around the creek and salt pans, Squacco heron, egrets (large and small), terns, various warblers, storks and bee-eaters amongst them. The creek is within easy walking distance of the town.



There are also large amounts of flowers including various orchids, some quite rare, and only found on this island. Red poppies abound at this time of year, corn marigolds, statice (or sea lavender), horned poppies, yellow irises,and many varieties of thistle to name but a few, and because of this there is a large population of bees. It was noticeable how many there were, and made us aware of how few there are now at home.



There is also a large number of butterflies, and crickets were everywhere, but I had fun photographing lots of different bugs and beetles too.

The later you travel, the hotter will be the weather, and the less there will be in the way of flora.




The second week was spent in Molyvos at the Amfitriti Hotel, which is situated just to the left as you enter the town on the harbour road. Molyvos is an intriguing town in the north of the island with a castle perched on the top, a busy harbour and lots of little streets that are inaccessible to vehicles. The refuse is collected by a man with a donkey with panniers!



We saw most parts of the island during the fortnight and visited monasteries, beaches, mountain villages, small fishing villages and more, photographing everything!

The tavernas are easily found when sustenance is required, and everyone was very welcoming. The food was local cuisine but was excellent, with Greek salad being a mainstay, combined with grilled sardines, pork chops, cheese 'rolls', and suchlike, but pizzas and pasta dishes are also readily available. Vegetarians can find plenty to tempt the palate too!



My camera is a Nikon D90 and I use an 18-200mm Nikon zoom. This gives me the flexibility I need for most subjects and is easy to manage with the weight restrictions incurred when flying these days.

Our flight was a Thomsons one and we were allowed 20 kilos of hold luggage and a severe weight restriction of only 5 kilos for the one hand bag,

so it is important to tailor your photographic needs to this.




---

Larger sizes of these photos and a further selection taken on Carol's Lesvos trip are in the
Gallery of Better Photographs
.

More of her work and adventures are in her Facebook Gallery at -
Carol Wiles Photography.
---
Why visit this place?
"Lesvos is a very beautiful island. We hired a car and I would recommend this to get around and see as much as possible. Pine forests, olive groves, and barren mountains, with lots of inland sea, unspoilt countryside, and friendly locals are the draw here! Lots to photograph too.

I used a Nikon D90 with 18-200 zoom lens with macro capabilities all the time. It's tricky to photograph birds unless you have a longer lens though."

When is the best time of year to visit?
April-May if you want the migrating birds and local flowers. The days are warm and comfortable, the local food is good, and there aren't many people about.

Weather Forecast
---
---
---

---
---
Find It
Custom Search
---
All of the advice, tutorials, masterclasses and ideas on this website are available to you at no charge. Even so, its upkeep does incur costs.


If you feel that the site has helped you then any contribution you make, however small, would go towards its ongoing maintenance and development.


Thanks for your help.
---
---