Facebook Tips for Photographers

"
Spreading the Word

"

Do you have a Facebook Page for your photography?




Here are some Facebook Tips to help you get more from this Social Network.


I belong to several Photography Groups and Forums. In one of them, a member suggested reciprocating Facebook "Likes". Many of us in that group have done this and it has meant that we are all enjoying more exposure for our work through each other's networks and we are seeing updates to one another's work on a regular basis - all part of the grand learning curve.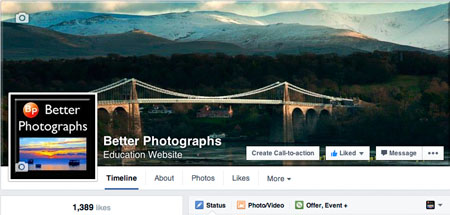 I check regularly to make sure that I have "Liked" the Photography Page of everyone who has "Liked" mine

and has left a comment on my Facebook Page

.

Sometimes these links do not work so it's always worth testing as soon as you add your comment and correcting it if necessary.
Other links route to a Personal Page and not to a Photography Page. This could mean that the difference is not clear in which case this article explains it.
If a link does route correctly, I Like the page

whilst logged in on my Personal Page so that my Like is added to your Like Counter

. (

You can change your log in by clicking the Gear Wheel Symbol at the right hand end of the Blue Bar at the top of the Facebook Page.

) The higher your counter number, the better for you. Why?

The search engines are more likely to notice you.
The Crowd Syndrome. Folk are attracted to crowds as they feel comfortable joining in and they want to find out what the crowd is looking at. If you have a website and you haven't already done so, try adding a Facebook Like Button as I have, amongst other benefits, it has a snowball effect. Click here for more information on how to do this.
---
This video explains how you can improve the ranking of your Facebook Page in search engines.

---
IF YOU ARE A NEWCOMER TO FACEBOOK PAGES THEN PLEASE READ THESE IMPORTANT POINTS
Check that you give the full url including the http:// when leaving the link to your page by clicking the link after you have added your comment. Some applications work without it and some do not so better safe than sorry.

Make sure you remove the /#! from the middle of your link (if it's present) because the link will still work for you but will not for everyone else.
When liking someone's page, take a minute to enjoy their work and leave a comment. We all get a boost when fellow photographers admire our work and it encourages a reciprocal visit and a Like.
If you want to stop news feeds from certain pages appearing in your Personal Feed then Log in to your Personal FB and "Like" to add to the recipient's counter if you want to help them in this way then use the "Hide all by ..." function to stop their posts appearing in your Personal News Feed. Then Log in to your Professional FB and Like them again and use your Professional News Feed to follow their posts.
If you don't have a memorable url for your Facebook page but want a short one go to -

facebook tips






- and get a shortened version of your URL.




Concern is sometimes expressed about whether you lose your statutory rights for photographs uploaded to Facebook. Here are some facts that might help you decide whether uploading is right for you -

"From Facebook's Terms of Service: Rights and Responsibilities Section 2



* Sharing Your Content and Information





"You own all of the content and information you post on Facebook, and you can control how it is shared through your privacy and application settings. In addition: For content that is covered by intellectual property rights, like photos and videos (IP content), you specifically give us the following permission, subject to your privacy and application settings: you grant us a non-exclusive, transferable, sub-licensable, royalty-free, worldwide license to use any IP content that you post on or in connection with Facebook (IP License). This IP License ends when you delete your IP content or your account unless your content has been shared with others, and they have not deleted it. When you delete IP content, it is deleted in a manner similar to emptying the recycle bin on a computer. However, you understand that removed content may persist in backup copies for a reasonable period of time (but will not be available to others). When you use an application, your content and information is shared with the application. We require applications to respect your privacy, and your agreement with that application will control how the application can use, store, and transfer that content and information. (To learn more about Platform, read our Privacy Policy and Platform Page.)




When you publish content or information using the Public setting, it means that you are allowing everyone, including people off of Facebook, to access and use that information, and to associate it with you (i.e., your name and profile picture). We always appreciate your feedback or other suggestions about Facebook, but you understand that we may use them without any obligation to compensate you for them (just as you have no obligation to offer them)."





This is effectively the same as sites such as Flickr although the protection offered by FB is not so good hence the way in which I mark my low-resolution images on FB and issue this statement in my FB Galleries -





"It is with regret that I have added a logo, watermark and copyright notice to my photos on Facebook. This is because of clauses in their current Terms and Conditions regarding photographs. I hope that these additions do not spoil your viewing pleasure too much but all of these photos and many more can be seen in my gallery."



FB are quite clear that you own and retain copyright on any images you upload and you are certainly at liberty to sell them. It is other FB users who might "steal" your work about whom you need to be careful."



---
Finally - If you have some more Facebook Tips which would help other photographers then please use the
comments section below
to share your ideas and experience.
Thank you.
---