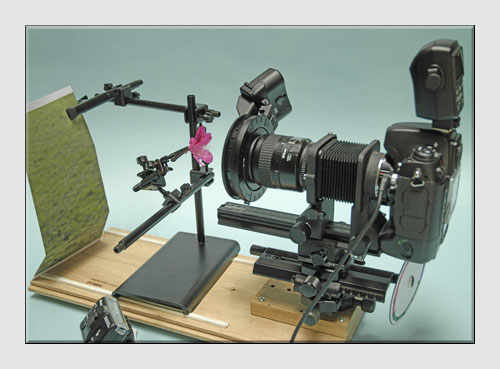 Question from Chris about
macro photography equipment
-

I came across your article on
Macro Photography
and was wondering if you could enlighten me about the apparatus you're using to hold the subject and backdrop.
My google skills are apparently lacking because I can seem to come up with any pieces or parts that size.
---
Answer -
Hi Chris,
Thank you for contacting me.
I have contacted the author of the masterclass and hope to have an answer for you soon.
Best wishes,
John
---
Hello again Chris,
I have just received the following reply from the author of the Macro Photography Better-Photographs Masterclass.
Email being what it is, could you please drop me a line to confirm that you
have received this.
Message for Chris
Sorry for the delay, but I have had some problems in contacting the firm below:

The laboratory scaffolding I use is made by S Murray and Co, but the photographic scaffolding I use is partly discontinued. Maybe other firms do similar laboratory scaffolding, but I don't know who they are.
I use Murray's CLIMPEX. It is used by close up photographers in the jewellery world for instance.
I know some is still in stock They are a friendly and helpful company, however I suspect that they are reducing staff in these difficult times so you may not easily get hold of them on the phone.
Go to www.smurray.co.uk for details.
Good Luck,
John McCormack
Author - Macro Photography Masterclass