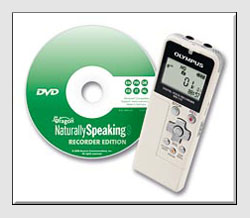 Voice Recorder
When I received this neat little package I was impressed by the simplicity of the whole thing, no oversized box and dauntingly large instruction booklet. (A small point, but could they not make the print in these books a little larger? One needs excellent eyesight and good lighting to be able to read the instructions without suffering eye-strain!)

However, when it came to following the instructions they were not that straightforward – e.g. the term "hold" seemed an odd term: I would have felt more comfortable with "standby" or "lock" but it's a small point. I found the instruction leaflet of little use when setting up the recorder to suit my voice and found the additional "Quick Start" card more helpful in setting up the menu mode.Olympus Voice Recorder
QUICK START CARD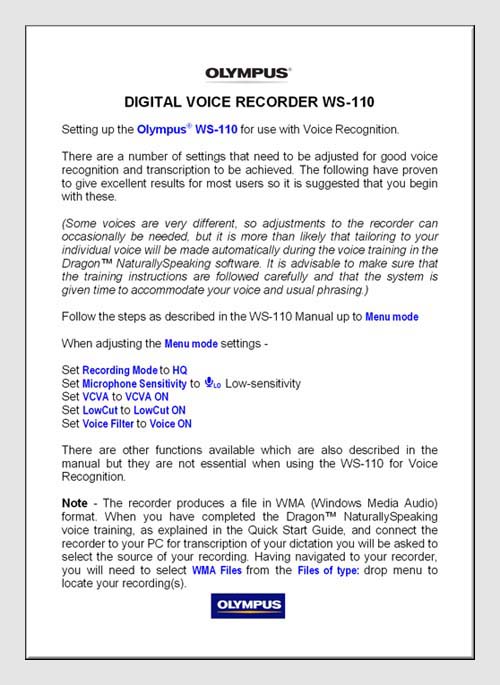 The recorder itself was extremely easy to use and I was soon at ease with the recording process and the system of folders.
Releasing the battery section caused me a little anxiety at first: I was not sure if the release button was working and how much pressure to exert. However, after a few attempts it became easier as I became more familiar with the recorder and less worried that I might break it!
I also found the "Quick Start" card useful when it came to retrieving the files: I consider myself reasonably computer literate but the fact that the recorder produces WMA format files and "Dragon NaturallySpeaking" uses WAV files means that when you first "browse" for files to transcribe, there appears to be nothing there!
Also, the writers of the manual might like to make sure the user is familiar with the "VCVA standby" function BEFORE trying to set up the speech recognition software: I was five minutes into reading aloud when I realised I would like to take a break but wasn't sure how to pause the recorder!
---

I took the recorder with me on my research trip to
Northern Spain
and found the folder system very useful for organising my thoughts – i.e. place descriptions in Folder 1, notes for my book in Folder 2, story in Folder 3 etc.

I even used it to record our guide's impromptu history of the Peninsular War

: he talked for just over two hours as we drove from Corunna back to the airport in Oporto (Portugal) and knowing his words were

being recorded meant I could relax and look out of the window, knowing that if my mind wandered I could go back and listen to his talk at a later date!
This neat little recorder fits easily into a handbag or pocket (I found it easiest to carry it around in the pouch I use for my mobile phone).

It feels comfortable to hold and is easy to operate with just one hand.

Except for that odd occasion when a sentence comes into my head that I need to note down before it disappears,

I do not see myself ever using it when I am in company (i.e. on the train) but when I am out walking on the moors, alone in my study or in my hotel room at the end of the day and want to record my thoughts, I think it could prove extremely useful.
Setting up Dragon Naturally Speaking
Olympus Voice Recorder
The initial set-up took only one evening (opening the package, loading the software, reading instructions etc). The on-screen instructions were fairly clear, although my first instinct was to read everything on the page (including the opening credits), not just the book text.

Another point where the writers of such instruction manuals could help is to point out that 15 minutes seems a very long time if you are not used to reading aloud.

I would have liked a little note suggesting that before starting I should make sure I was sitting comfortably, could see the screen and that there was a drink close at hand.
Olympus Voice Recorder
Having said that, the test pieces were interesting and the whole process was complete within an hour, including allowing "Dragon NaturallySpeaking" to adapt to my writing style.
Olympus Voice Recorder
So, that's the first part of my learning curve complete: I can use the recorder.

I have plenty of material to transcribe, so the next text is to get to grips with the Dragon NaturallySpeaking!


Olympus WS-110 and Dragon Naturally Speaking
Having familiarised myself with the recorder I have now transcribed a number of files and each time it just gets easier.
The software was easy to install the whole process outlined in the Quick Start Guide was completed in an evening. Finding the files to be transcribed was puzzling the first couple of times since the software does not automatically pick up WMA files. The transcription improves each time, although when I start a new novel, there are new names and places to be learned.Olympus Voice Recorder
I often find myself with a new idea for a story, or I've been polishing a sentence that's been bothering me and it's very useful to be able to record this immediately rather than go hunting about for a pad and pencil.
I took the recorder with me when I went to visit Lyme Park in Cheshire recently and found it very useful for recording my immediate reaction to the sights and sounds around me – descriptions of the park and of the long drive leading up to the house, the scents on the breeze, the view from the hill etc. These notes are now transcribed and saved amongst my research notes – very useful for future reference, for example when I am trying to write a sunny spring scene whilst huddled over a fire on a dark and stormy winter's night.Olympus Voice Recorder
For creative writing – i.e. actually writing my novel – I find the voice recognition is useful although in a more limited way.
After many years of working in an office I am quite comfortable dictating letters or reports, as well as being on the receiving end as an audio-typist (if this is what I wanted then I am afraid the WS-110 would not work as I cannot press the pause button when recording and listen to what I have just said before continuing).Olympus Voice Recorder
However, for me the process of writing a novel is completely different. I have found that the story in my head comes out in quite disjointed phrases. I do not think in perfect grammatical sentences. The polishing of the text is a very visual exercise and an important part of my editing process. I therefore find that I might record the bare bones of a chapter – often with repetition if I think of a different or better way of phrasing something. Then, when I can get back to my computer I can edit these ramblings before adding them to my work in progress.
Opening Dragon NaturallySpeaking and finding the files is now easy, just a few well-practised clicks, but when I hit "transcribe" I find it is best to go away and do something else while the software tries to make sense of what I have said. Generally it copes very well. As a writer of historical novels I use many words and phrases that are not in common use, as well as fictitious characters and places. Once these have been corrected they rarely cause a problem in any future transcription (although the occasional coughing fit has caused the software to give up!)
Once the text is on the screen I can then go through it, correcting, editing and adding in punctuation, as I would do if I was typing up from my own short-hand notes.Olympus Voice Recorder
ConclusionOlympus Voice Recorder
I do not like to sit at my PC, dictating, so I have not fully investigated the potential of Dragon Naturally Speaking, but I am very happy that this combination of recorder and software does everything I ask of it. It is a very neat combination: the recorder is small enough to carry around with me so I have the ability to record my thoughts or flashes of inspiration any time, anywhere and then have them transferred into a text document with so little effort on my part.
I had a quick look online for this package and found several sites offering it at around £95. I think for that price it is a very useful tool for a writer or note taker. I would rarely use the recorder if it did not have the voice recognition software – if I am going to sit at my PC typing up notes I would rather do so from a notebook than listen to my own voice!