Better Photographs Blog
"Summary of What's New"
This is where to find my most recently added pages, along with other news and information that will help you to produce better photographs.
If you have not come across Blogs and RSS before, they have many advantages. They enable you to control what you receive, ensure that you never miss the news that you want and you don't have to keep revisiting your favourite websites to keep up to date on the latest information - click here to find out more.


---
The Northern Lights ...
"Aurora Borialis"
This month's selected image was taken by Keith Pointon, the Secretary of the Royal Photographic Society's Travel Group, when he visited Iceland last year. The various shots he obtained inspired so many of the group's members that another trip to see the Northern Lights has been arranged for them next January.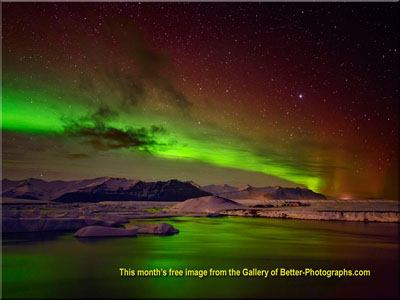 Travel and photography have been an enduring part of Keith's life since an early age. His first camera was a Christmas present when he was 12 years old and living in Malaya. He never looked back. He quickly learned to develop and print his own black and white prints and has always enjoyed the qualities of monochrome images.

A former teacher of Geography and Geology, it is not surprising, that landscapes and travel have been the backbone of his photography. Field trips and holidays to wide ranging places, Iceland, Antarctica, India, North Africa and the Mediterranean are a feature in his work.